CEO Tech
The new CEO Tech collection puts you in the driving seat. Classic look? Or a daring design? It's all up to you. With Swiss Made movements and high-end specs, these timepieces provide you with the performance and precision you need. All it needs is your own flavour. Blaze your own path with our new CEO Tech timepieces.
SWISS MADE MOVEMENT
Swiss engineering backs up your style. Every CEO Tech model is equipped with an accurate Swiss Made movement: Ronda Z60 Swiss Chronograph multifunction movement. Trust Swiss engineering and create your own CEO Tech timepiece.
SAPPHIRE CRYSTAL
The CEO Tech timepiece provides substance to your style. Featuring luxurious, scratch-resistant, anti-reflective sapphire crystal, you can wear it wherever you go.
Check the other specifications
EXCHANGEABLE BRACELET AND STRAP
Steel bracelet or leather strap? Or why not both? It's up to you. Thanks to the construction of the CEO Tech, you can easily exchange a steel bracelet or strap yourself. Each model comes with a special screwdriver which allows you to comfortably exchange the strap and bracelet, but also adjust the screwed links of the bracelet.
3 YEAR WORLDWIDE WARRANTY
CEO Tech watches are crafted from the strongest materials. As such, we are happy to offer a 3-year worldwide warranty.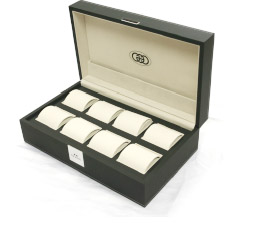 GET YOUR OWN COLLECTORS BOX
Pre-order now until May 15th and receive an exclusive collectors box from us.
Availability
The CEO Tech timepieces are now available. Pre-order until May 15th and receive an exclusive collectors box from us. Orders ship in mid-May/June, subject to Swiss production schedule and shipment.
INSTRUCTIONS AND TERMS
The following specific instructions and terms apply to any pre-order for a CEO Tech 2021 watch. Due to the special nature of the offer made, these terms differ from our standard terms and conditions (which can be found here)

- After online order, you will receive an email confirmation of your order.
- No cancellations or changes of order details or engraving will be accepted after 3 days of the order date.
- Delivery will take place on mid-May/June (subject to production schedule, shipment and coronavirus related measures ) and will be made according the agreed-upon shipping agreement, subject to the country of destination.
- Delivery dates are indicative only and therefore not binding.
- Upon watch delivery from TW Steel head office to your country, our local customer service representative will contact you on behalf of TW Steel to further discuss the watch delivery arrangements.
- The right of withdrawal does not apply to your pre-order of this collection, as this watch will be manufactured according to your specification, i.e. it is not prefabricated but will be manufactured on the basis of individual choices and/or wishes uttered and will therefore be personalized.
- Only VISA, MasterCard and American Express and other locally accepted payment methods are accepted. Non-refundable handling charges may be charged by your bank when payment is made by a credit card.
- Different collection methods and service terms may apply to different countries. Please inquire with our local office for details.
- In addition to your statutory rights, this collection models come with a 3 year manufacturer's warranty.
- TW Steel reserves all rights in case of any disputes.